Galaxis
Galaxis is a lightweight WordPress theme built with a focus on speed, usability, and performance. A great theme for professional bloggers, which is designed for the best readability and clarity of each section on your website. It comes with a sticky multi-level dropdown menu, social links menu, top header bar, sidebar widget area, and various theme options.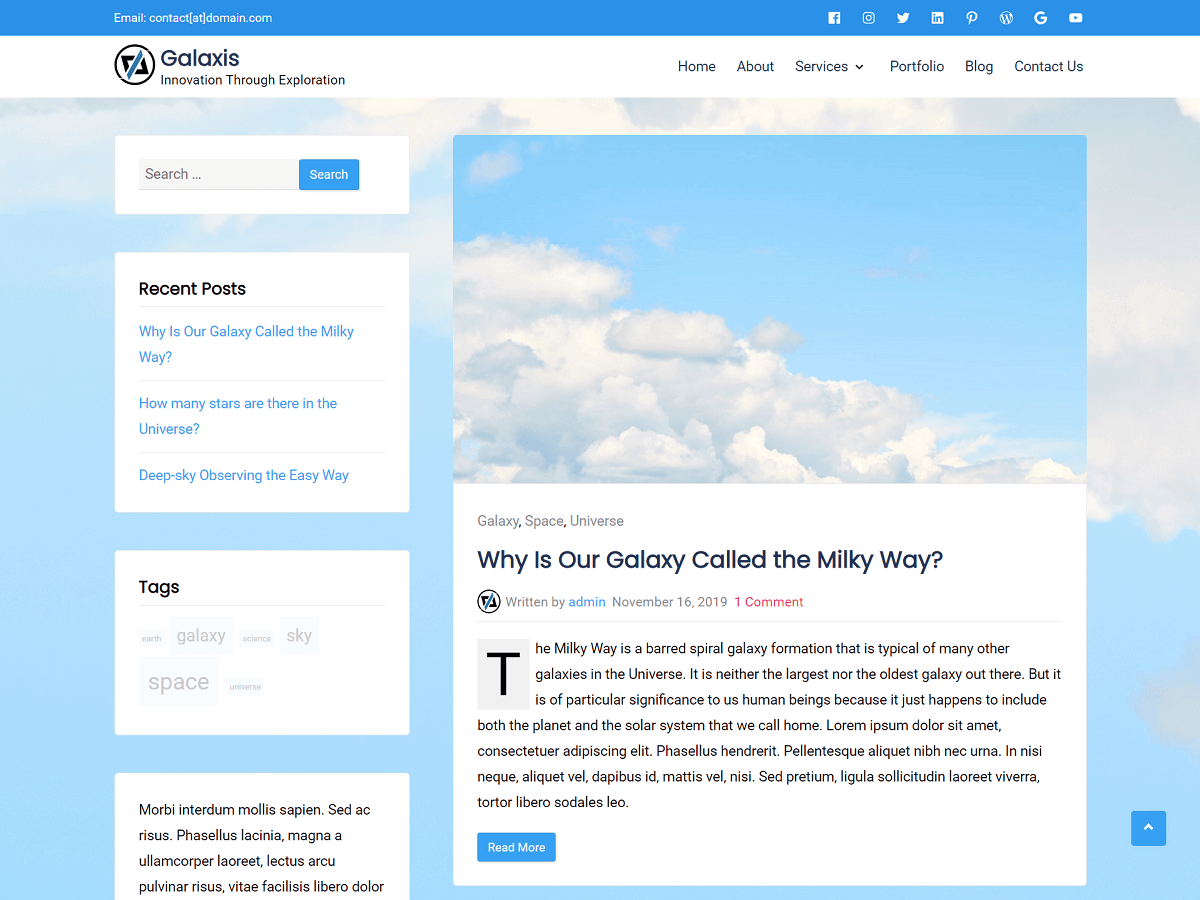 How to install the Theme in your WordPress site?
In your admin panel, go to "Appearance > Themes" and click the "Add New" button.
Click "Upload Theme" and "Choose File", then select the theme's .zip file. Click "Install Now".
Click "Activate" to use your new theme right away.
How to set the Home Page?
By default, WordPress displays the latest blog post on your site. You can change this behavior to show a page instead. To do this, go to your WordPress admin area > "Settings" > "Reading", then under setting "Your homepage displays", set it to "A static page" and select the "Homepage".
Then, you can start designing the home page just like you do with a normal WordPress page.
If you want home page sections like services, features, or custom sections, then you can check the premium version of this theme.
How to remove the page title?
To remove the title of a page, you can set the page template with no title for that page.
To set the page template, you need to edit the page and go to "Document" on top-left side, then under "Page Attributes", select any "Template" with no page title.
Where to find Theme Options?
You can access all the theme options from the Customizer. In your admin panel, go to "Appearance" > "Customize".
Here, you will find all the theme options that you can use.
How to disable Sticky Menu when Scrolling?
You can disable the sticky menu when scrolling from the Customizer > "Header Options".
How to disable Back to Top button?
Just like above, you can disable the back to top button from the Customizer > "Header Options".
How to add Social links in the Menu?
You can create a new menu from "Appearance" > "Menus". Then, assign the newly created menu to the location "Social Links Menu". After, you can insert Custom Links to the menu by providing your social links.
The social menu will appear on the top bar.
How to change Copyright text in the Footer?
You can change the copyright text from the Customizer > "Footer Options".
How to change the Top Bar and Footer Background Colors?
You can change the top bar and footer background colors from the Customizer > "Colors".
"Read More" button doesn't show up on the blog archive page?
When you create a blog post, you can insert a "More" block in the content. You can do so by clicking on the plus (+) button labeled as "Add block" and then search for "More", and finally click on it to insert in your content.
Then the "Read More" button will appear for this post on the blog archive page.
Galaxis Theme Pricing
Free Version
Full-width template

Sidebar Widget Area

Top Header Bar

Multi-level Sticky Menu

Social Links Menu

WooCommerce Ready

Infinite Scroll with Jetpack

Translation Ready

Fully Responsive

Custom Link Colors

Custom Button Colors

Home Page Sections

Services Section

Features Section

Call to Action Buttons

Latest Blog Section

Parallax Background Effect

Custom Sections

Sortable Sections

Unlimited Color Options

Footer Widget Area

Advanced Theme Options

Regular Updates
Galaxis Premium
Full-width template

Sidebar Widget Area

Top Header Bar

Multi-level Sticky Menu

Social Links Menu

WooCommerce Ready

Infinite Scroll with Jetpack

Translation Ready

Fully Responsive

Custom Link Colors

Custom Button Colors

Home Page Sections

Services Section

Features Section

Call to Action Buttons

Latest Blog Section

Parallax Background Effect

Custom Sections

Sortable Sections

Unlimited Color Options

Footer Widget Area

Advanced Theme Options

Regular Updates