If you are seeking new alternatives to Zoom, whether free or paid, then you can check out this article. The Zoom video conferencing application has been a particularly popular way of maintaining global isolation, whether for personal or professional gatherings, amid the coronavirus pandemic.
As Zoom began to be the perfect solution for remote communication challenges, a few drawbacks occurred in terms of privacy and security. Even though Zoom has issued several security updates to overcome this problem, you may still prefer to be cautious. Therefore, check out these free and paid alternatives to Zoom.
1. Microsoft Teams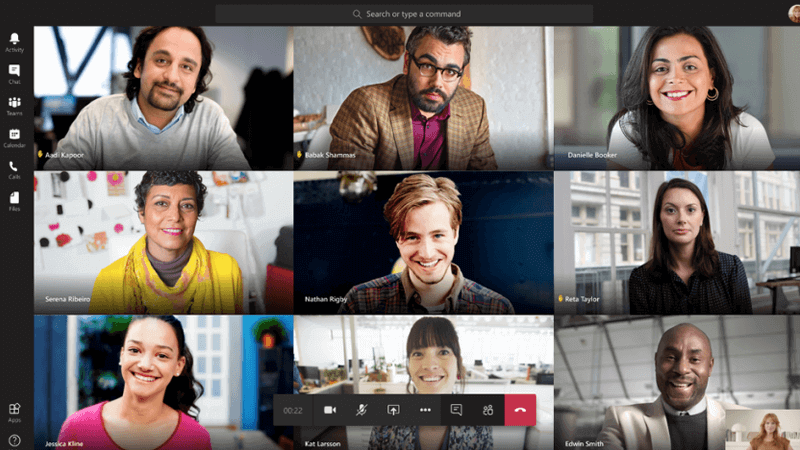 An ideal choice for organizations that use video conferencing services as their primary internal communication tool is Microsoft Teams. The top feature is the activity feed for a summary of conversations/actions in chat channels, and the "Together Mode" view.
Although it comes with three paid plans ranging from $5.00 / user per month to $20.00 / user per month, you can still sign up for a free plan just with your email address. The free plan allows you to have 100 participants with up to 60 minutes of meeting duration. Therefore, it is our first selection for the Zoom alternatives list.
2. Cisco Webex
Another Zoom alternative is Webex by Cisco. Cisco Webex is a great choice for small companies where there is a need to organize regular breakouts and require accurate summaries or follow-up activities for meetings.
The top feature of Webex is the AI Meeting Assistant. It may be scheduled to pick up certain "trigger" words during meetings to automatically make notes, action items and summaries to be delivered to the participants following the conclusion of the conference. Also, it can transcribe meetings automatically in real-time and can be engaged with voice commands.
Cisco Webex has three paid plans ranging from $13.50 / host per month to $26.95 / host per month. You can host meetings with up to 100 participants on its free plan, with a maximum of 50 minutes.
3. GoToMeeting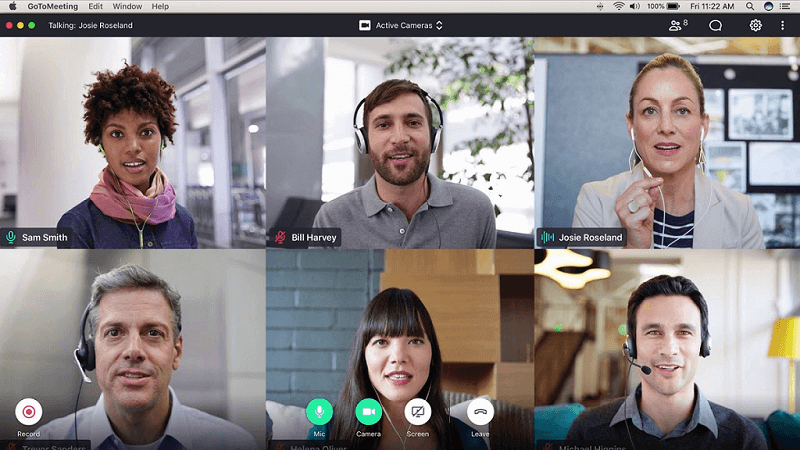 For enterprises with high-attendance online meetings, an excellent choice is the GoToMeeting. This is a web-hosted service by LogMeIn that includes audio and video conferences, screen sharing, and a mobile app for Android and iOS. Also, it offers scalable solutions for businesses of all sizes.
The top feature is that you can transfer your keyboard and mouse control to any attendee during the meeting.
It offers three paid plans, The Professional Plan for $14.00 / organizer per month, the Business Plan for $19.00 / organizer per month, and the quote-based Enterprise plan. It also offers a free 14-day trial without a credit card requirement.
4. Digital Samba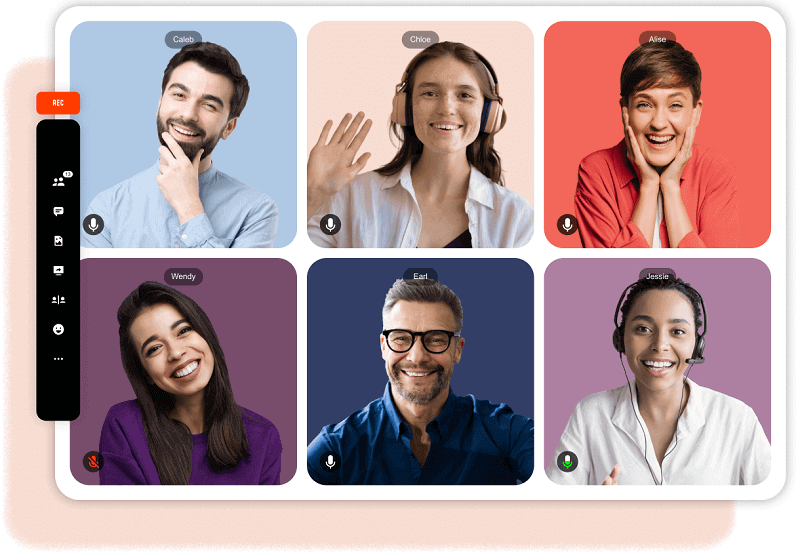 A GDPR-compliant, secure, and powerful video conferencing software, Digital Samba offers a complete video conferencing solution for team collaboration, meetings, education, webinars, app development, etc.
It works right from your browser, so you don't have to download any software to use it.
The features include screen sharing, file sharing, polls, teleconferencing, recordings, custom branding, time zone management, mobile app, reporting and statistics, email notifications, REST API, and many more.
Digital Samba is Europe's favorite video conferencing software and its highly secure server infrastructure ensures your data is safe and you remain compliant with European legislation.
The pricing for meetings starts from €9 per month (Starter plan) with up to 100 participants, unlimited meeting duration, and an unlimited number of sessions. The other plans are €11 per month (Team plan) with up to 300 participants and €18 per month (Business plan) with up to 500 participants. For more details on features that each plan offers and its pricing for education, webinars, and more, you can check its official website.
5. Join.me
The next Zoom alternative is Join.me. This is ideal for little organizations or those operating on a limited budget.
Though its capabilities are on the basic side, it offers a tremendous number of integrations that make it the ideal choice for teams that are pleased with their existing team communication solutions but require a product with regular video chat capabilities.
Join.Me does not currently offer a free plan. However, it offers three paid plans, the Lite Plan for €9 / user per month, the Pro plan for €17 / user per month, and the Business Plan for €24 / user per month.
More Options for Video Conferencing
Besides the above 5 alternatives for Zoom, you may also check the following options.
BlueJeans
If you are looking for a video conference service for smaller teams that offers quality streaming, then you should check BlueJeans. It is a great choice for firms that are just temporarily planning to continue to work remotely.
This includes key capabilities for communication and collaboration but does not match the in-office experience like other Zoom alternatives on this list. It also features a safe driving mode for mobile apps.
It offers four paid plans, The Standard plan for $9.99 / host per month, the Pro plan for $13.99 / host per month, the Enterprise plan for $16.66 / host per month (only if you prefer to pay annually), and the quote-based Enterprise Plus plan. However, it does not offer a free plan.
We also have a guide on the top remote work monitoring software that you may want to try for your business.