The demand for remote work monitoring of employers' businesses has increased more than ever in the aftermath of the pandemic. The work monitoring tools can be vital for business owners who want to ensure their employees are efficiently using their working time to fulfill the duties and tasks allocated to them.
Therefore, remote work monitoring is just perfect as it helps in improving the productivity of the working staff. Also, it helps them to work and collaborate more efficiently.
There are many work monitoring software to effectively manage time tracking and staff working hours while offering many features to improve workflow. In this guide, we will help you find the best remote work monitoring software to use that fits your business well.
1. Hubstaff – Productivity Monitoring & Time Tracking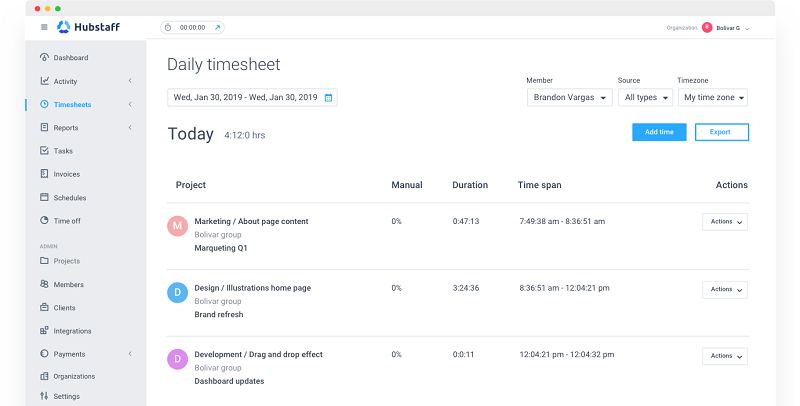 The best work monitoring software for keeping the track of time is Hubstaff. Once an employee accepts a project and starts working on it, it will track the time spent on the project. Also, it allows you to visualize the work getting done as it happens.
Hubstaff can track and measure productivity by tracking apps and URLs used. Its regular screenshot feature simplifies project management by eliminating the need for frequent check-ins. In short, it is an efficient work monitoring software that tracks time spent on projects and measures productivity.
2. ActivTrak – Work Productivity Monitoring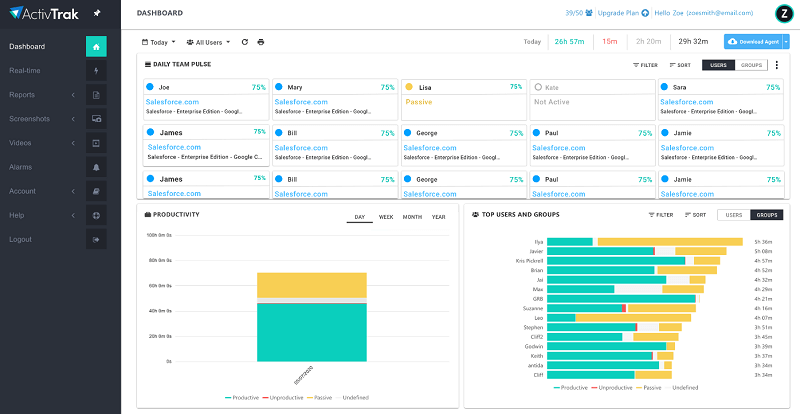 The ideal monitoring software for the remote workforce is ActivTrak. The main focus of this software is on productivity with the help of great features like employee behavior, productivity, efficiency, workload balance, and goals.
It can help you understand how your employees work, see what applications they use, and what their web habits are. Even though it tracks mouse movements and keyboard activity, it doesn't track keystrokes. It can point out overloaded employees or unbalanced workloads.
3. Kickidler – Employee Monitoring Software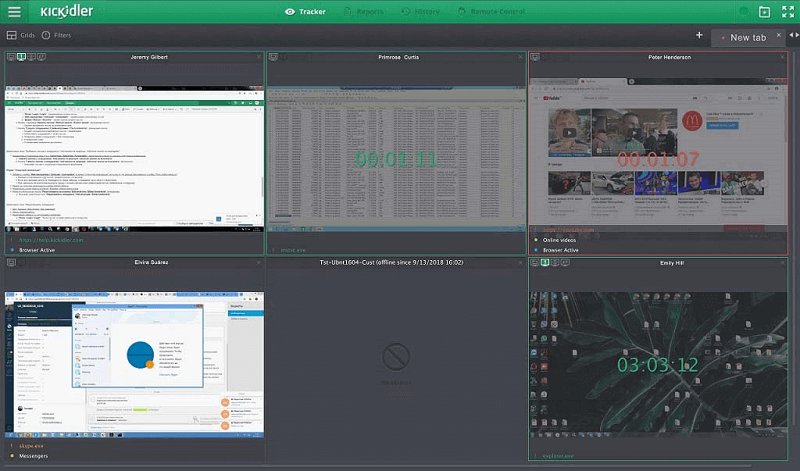 Kickidler is one of the most featured-rich employee monitoring software that comes with many comprehensive functionalities such as real-time screen monitoring of the employees, screen video recording, remote access, work-time reports, timesheets, etc.
Besides this, it offers the entire history of activities that employees perform on their computers. Also, it provides a way to easily filter the required information.
Moreover, it provides a feature to notify the supervisors when it detects any work schedule violations or suspicious activities.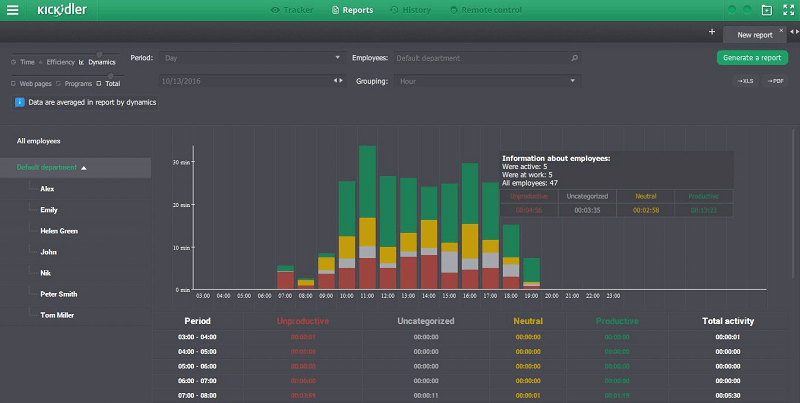 In conclusion, Kickidler is an excellent choice to keep track of the employees' activities, productivity, efficiency, working hours, and real-time monitoring with detailed reports.
If you want to try out Kickidler before purchasing it, then they offer a free version of Kickidler that you should definitely want to check out.
4. WebWork – Time Tracker with Screenshots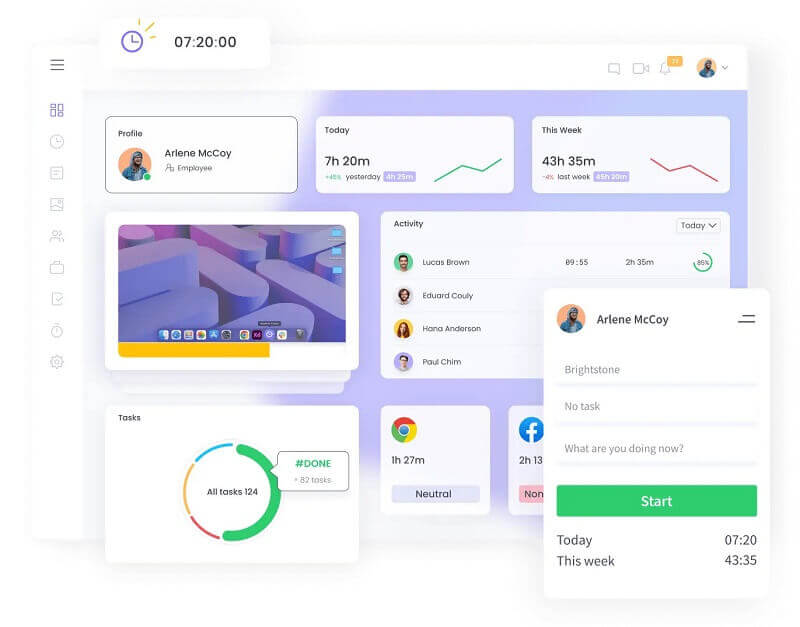 WebWork Time Tracker is a powerful tool designed for companies and remote teams to effectively manage their time and employee productivity. It offers time tracking, attendance monitoring, screenshot capture, usage tracking, and task management. All these features give businesses detailed insights into their team's productivity and time management.
In addition to employee monitoring, WebWork Time Tracker also offers geolocation GPS tracking and team chat. With the ability to customize member types and permissions, managers can structure their teams based on their needs and specifications.
It offers concise reports with charts, graphs, and tables for analyzing tracked hours, productivity, and usage. The activity feature shows average daily/weekly activity by a percentage based on clicks and keystrokes.
Overall, WebWork Time Tracker boosts business decisions and profitability with a user-friendly interface and real-time data.
5. InterGuard – Remote Employee Monitoring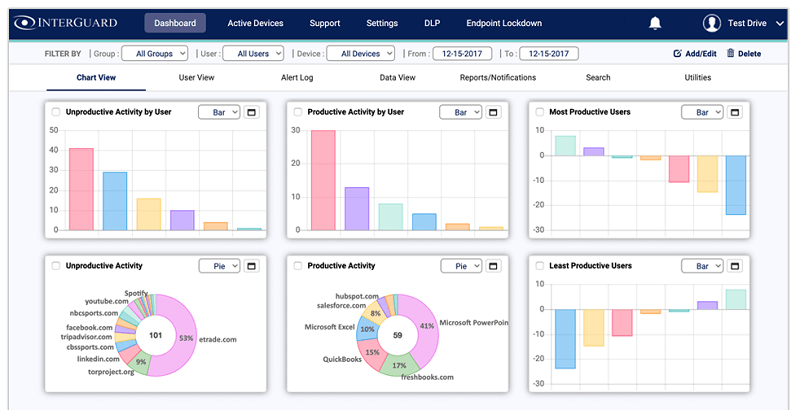 The other monitoring software that offers workforce analytics is InterGuard. It allows you to measure productivity and idle time, providing the employer with a detailed report about how employees use their time, such as application and website usage.
InterGuard also offers insider threat detection and protection, which is useful for data loss prevention. It blocks and reports any unauthorized email and/or USB usage. You can also expect to get notified when suspicious actions occur, whether they are prompted by keywords, policy violations, or unusual behaviors.
Another feature to note is that it allows you to remotely delete or retrieve files from any endpoint along with endpoint lockdown and following up on investigations.
More Options for Remote Work Monitoring
Besides the top 5 remote work monitoring software, you may also want to check out the following options.
Teramind – Employee Productivity Tracker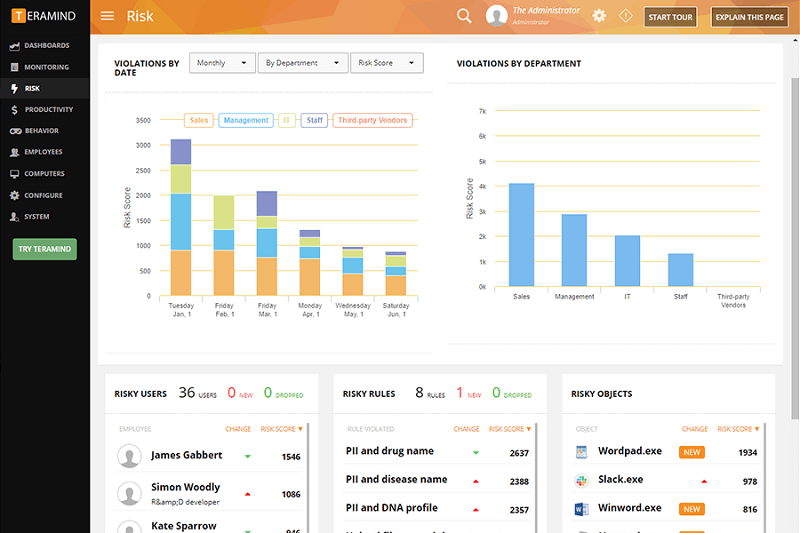 The best monitoring software with high security is Teramind. It can instantly notify you about suspicious employee activity. Also, it can also automatically block any suspicious actions.
Its user activity monitoring can track various activities such as web pages, applications, emails, console commands, file transfers, instant messages, social media, online meetings, keystrokes, clipboards, searches, printings, and on-screen content.
SentryPC – Remote Computer Monitoring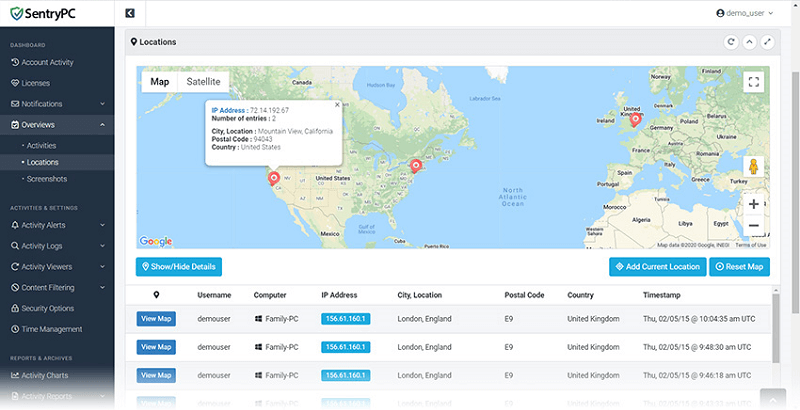 A great choice of computer monitoring software for small businesses is SentryPC. It can track many activities, such as downloads, logins and logouts, password changes, and resets.
SentryPC can log every application or game a user runs, and give a report on how long they are using this application. Therefore, you can determine whether it's running in the background or if they are actually using it.
It can also log various events with timelines. For example, file activity logging, clipboard logging, keystrokes, IP logging, online searches, print job logging, portable drive logging, and session logging.
SentryPC has keyword and phrase filtering, which makes it hard to disclose confidential information to others by closing the window instantly they are typing into. Furthermore, it has application and website filtering, which allows you to select when they are allowed to be used by the working staff.
We also have a great guide on the best video calling software alternatives to zoom that you may want to check out.