If you are a WordPress blogger or content writer, then you can significantly improve the quality of your content by using WordPress AI assistant plugins.
In this article, we list some useful AI assistant plugins that you can utilize to speed up the process of writing content for your WordPress blog. This can help you save time and ultimately increase productivity and efficiency.
AI Engine
AI Engine is a WordPress plugin that makes it easy to integrate a large language model (LLM) like ChatGPT from OpenAI and Microsoft Azure into your WordPress website. To activate the AI functionality and enhance the writing experience, users have to input the API key from their chosen AI service provider.
It comes with AI Copilot that provides helpful suggestions, you can simply type after a space to activate the AI Copilot. It can suggest enhancements, spelling fixes, grammar corrections, text translations, readability improvements, and more.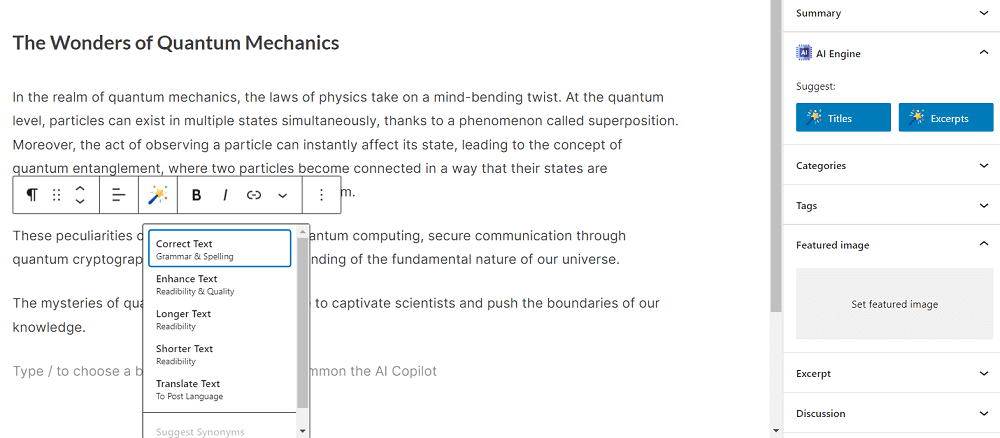 Also, it offers quick recommendations with a single click for better titles, excerpts, and more. You can adjust parameters, customize prompts, and generate engaging content and images.
The AI Playground allows for custom use cases. It comes with a toolbox of AI-powered tools to experiment with translation, correction, and more. It allows for fine-tuning models, you can manage and train AI models and edit datasets through user-friendly interfaces. Additionally, it offers an internal API that can be used by various plugins to enhance their functionality.
The other features include:
Speech-to-text conversion: AI Engine includes a feature that converts spoken words into text using Whisper API. This can save you time and effort when adding content.
WooCommerce product fields templates: It offers multiple templates for WooCommerce fields like short descriptions, long descriptions, and more to quickly fill product fields.
Jetpack AI Assistant
Jetpack plugin offers features like website security, content optimization, and infinite scrolling, providing website owners with a comprehensive solution to enhance their online presence. It includes an AI assistant feature that can create engaging blog posts, detailed pages, structured lists, tables, and other types of content as per your specific needs.

With its adaptive tone adjustment, you can easily match the style you want for your content, whether it's formal or conversational. Its interface seamlessly integrates into your WordPress editor, making content creation efficient and natural. It also includes advanced spelling and grammar tools to help you maintain professional standards.
You can select different types of tone for any sentence or paragraph such as formal, informal, optimistic, humorous, confident, and so on.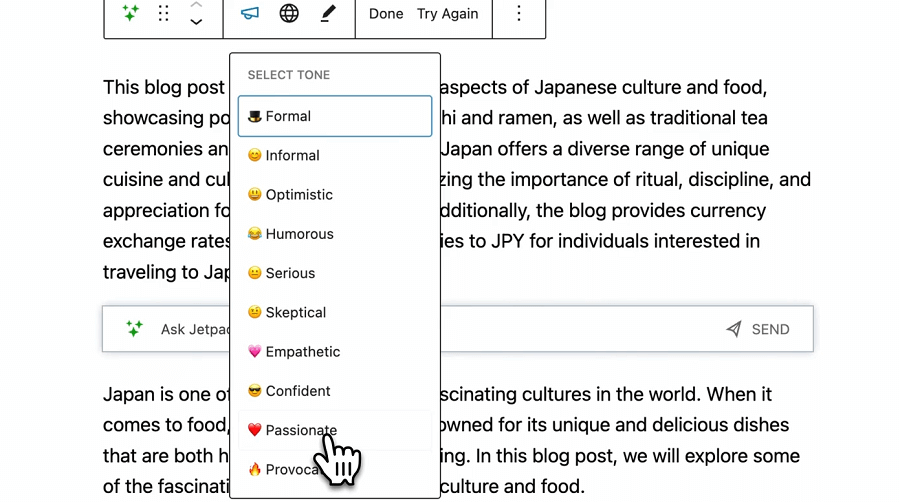 Additionally, Jetpack AI Assistant can generate fitting titles and concise summaries for your content. And if you need translations, it can provide AI-powered translations across multiple languages, breaking down language barriers.
GetGenie AI Content Writer
GetGenie.AI is an AI content writer and SEO assistant plugin for all your WordPress content writing tasks. It can help you write blog posts, social media copies, email copies, or any other marketing materials. It can even generate descriptions for WooCommerce products.
You can set the creativity level for the content generation process, and select outlines for the topic. Also, it's multilingual, so you can create content in different languages.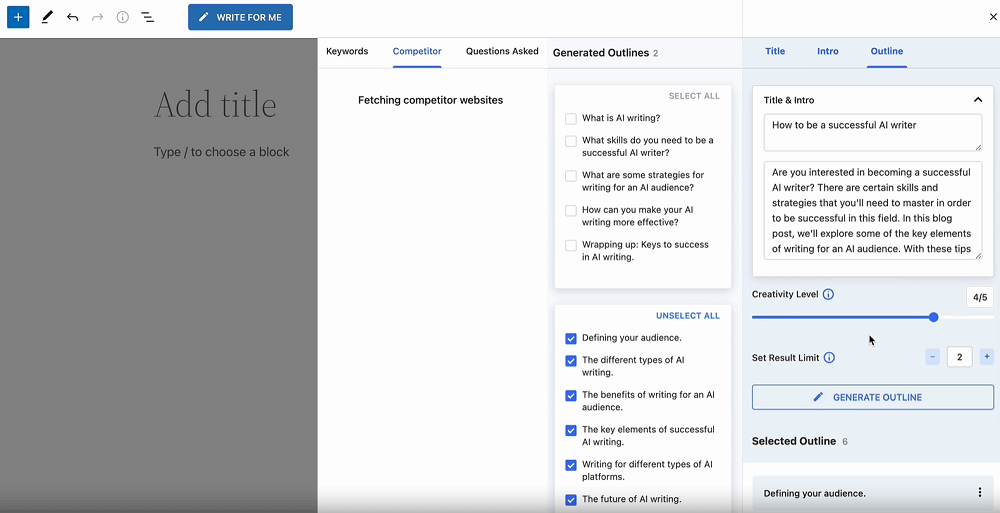 The plugin offers compatibility with the WordPress block editor and popular page builders plugins like Elementor. GetGenie can perform SEO analysis, enhance on-page SEO, and includes AI templates for efficient copywriting.
Some other features of GetGenie include:
Plagiarism checker: It includes an integrated Copyscape checker to detect plagiarism effectively to ensure your content's authenticity.
Keyword research and analysis: It offers Natural Language Processing (NLP) for SEO keyword research and analysis.
Content score: To improve your content's quality, it assigns a content score based on factors like SERP analysis, length, keyword research, headings, and text structure.
SERP visualizer: To help understand how well your content is doing, it can show a visual representation of your content's performance on search engine result pages.
AI Assistant by 10Web
Another great AI assistant plugin for WordPress is by 10Web which offers diverse templates for generating content such as introductions, outlines, a complete blog post, paragraphs, FAQ generator, product descriptions, conclusions, and more. It can significantly enhance your content's creativity, readability, and style.
Using it, you can easily paraphrase any paragraph to make it unique and engaging. Also, it works seamlessly with both the WordPress block editor and the classic editor.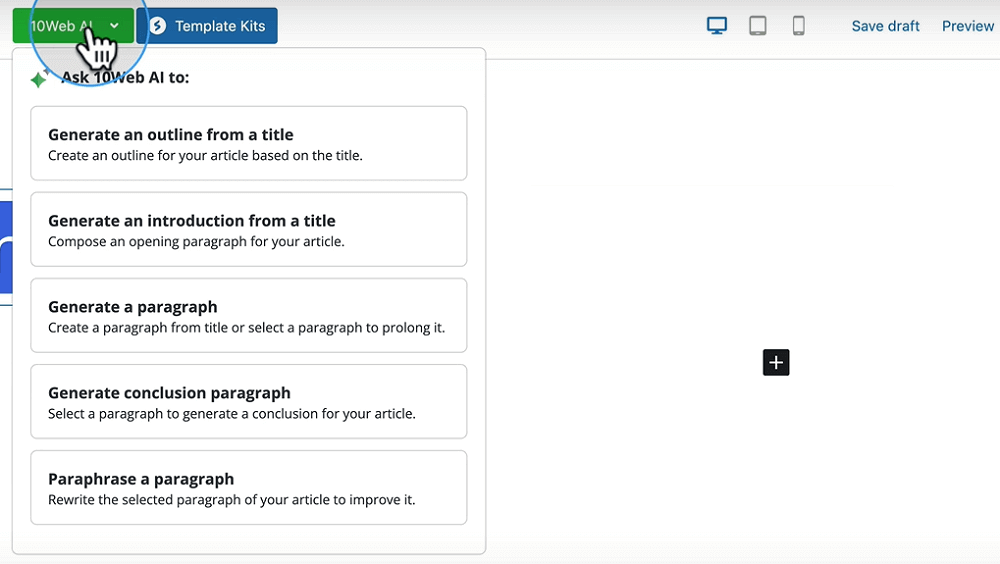 In conclusion, AI assistant plugins for WordPress offer a range of powerful tools to enhance content creation and streamline workflows. These plugins provide features such as content generation, tone adjustment, translation, and SEO optimization. With their compatibility with the WordPress block editor and user-friendly interfaces, these plugins make it easier than ever to create engaging and high-quality content.